Events Calendar
Home School Day at the Capitol
Thursday, January 17, 2019, 09:00am - 02:00pm

Description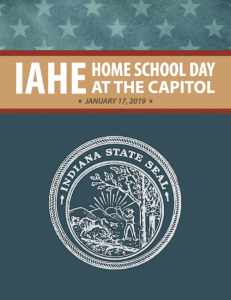 We encourage our members to participate in IAHE's Home School Day at the Capitol on January 17th. Basic details are below, and their website for the event with more information is here: https://iahe.net/2019-home-school-day-at-the-capitol  Please pre-register so they have your name tags available and so that they can see that every county will be represented. Check-in begins at 8:30 a.m. Programs and activities will be available from 9:00 a.m. until 2:00 p.m. Cost is $5 per family and includes a Home School Day at the Capitol ebook with a complete unit study on seventeen notable Hoosiers!
Events will be offered to help your family learn more about our state government. In the morning, the Live Statue Hunt is a fun way for your student to learn more about the interesting historical figures featured in the statehouse. Jeanette Goben from the Indiana Statehouse will be speaking on the history of the Statehouse.  IAHE Action and the IAHE Legislative Team will provide an update about various bills that we are tracking, followed by the IAHE Rally at noon. During the rally, the Hancock County Children's Choir will perform followed by Senator Dennis Kruse, former chair of the Education & Career Development Committee and supporter of homeschooling, and Representative Timothy Wesco who serves as Vice Chair on the Public Policy Committee as well as serving on the Education committee.
It's our desire that EVERY legislator meets a homeschool family from their district during our event. It sends a powerful message to know that homeschool rights are important enough to take time out of your very busy schedule to come to the Statehouse. Contact your legislator prior to the event to schedule a time to meet with them.
Locate your legislator here.
Senate Office, 800-382-9467
House of Representatives Office, 800-382-9842
Parking: The least expensive parking is at the Circle Centre Mall garage. Here are directions to get from the mall garage to the Statehouse via a tunnel. Allow at least 15 minutes walk time.
Location
Indiana State House, 200 West Washington St, Indianapolis, IN, 46204,
Registration
Registrations are not required.